Remembering Sports Radio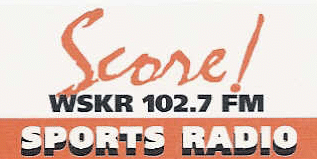 (August 16, 1991-March 12, 1994)




It all started in August of 1991 when Jim Quinn of Quinn Broadcasting leased 102.7 FM from the late Don Powers 24 hours a day with the intention of creating New Jersey's first all-sports station. The call letters WSKR were selected because the "SKR" could be pronounced "Score", as in Score 102.7.

The studios were in East Vineland, though the station's signal originated from a tower in Cape May County and was strongest in the Atlantic City-Ocean City market. That created the unusual situation of not being able to hear the station very well in the parking lot of the studio but having a strong signal 30 miles away.

The first broadcasts were play-by-play of the National Babe Ruth World Series in Millville. The games were heard on Score-102.7 and on stations in the hometowns of some of the participating teams. A few weeks later, at the end of August, the regular lineup began.

Gary Quinn, now with NBC in New York, and John Spahn, now with WOBM in Toms River, were co-hosts of the morning show. Jim Quinn, now the mayor of Millville, and Fred Melendez were on during late mornings. Tom Williams, four-time New Jersey Sportscaster of the Year, hosted mid-days with Matt Birmingham, who has since returned to Florida where he has done Arena Football play-by-play, doing his thing in the afternoon drive. At night, it was the brand new ESPN Radio SportsNight.

There were some adjustments made after a few months. Birmingham moved to midday, Williams deeper into the afternoon and former Philadelphia TV anchor Joe Pellegrino joined as an afternoon host.

On the weekends, personalities like Tony Blum, Marc Narducci, Jim Wise, Alex Konick and Steve Parker talked sports in various combinations.

There was tons of play-by-play. Score-102.7 carried 55 NFL games that first season, plus loads of college and high school games. The Sports Team handled most of the high school play-by-play. In the winter, it was high school basketball, the 76ers, the Flyers and college hoops.

As Score-102.7 continued to struggle for advertising support, management made an unusual decision. An arrangement was worked out with WIP in Philadelphia to broadcast that station's shows from early morning until late afternoon. The only local programming was The Sports Team's high school play-by-play and a nighttime show once a week that featured the debut of Luci Jones, now one the Delaware Valley's top radio sports hosts on WIP.

That lineup continued for nearly two years until Quinn Broadcasting, which had purchased control of the station, sold it.