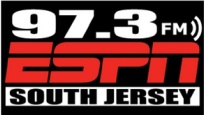 97.3 ESPN
Girls Basketball Shootout
at Holy Spirit

All teams are from New Jersey except where noted.




Saturday, January 24, 2015
11:00am --- Mainland 47 Atlantic Christian 25 box score
Mainland, known for its defense, held Atlantic Christian to seven 1st half points. Gabby Boggs had game-high 11 points, while Shea Scannell added 10 .
Dakota Hitchner led Atlantic Christian with nine points.
12:45pm --- Atlantic City 43 St. Joseph 30 box score
Atlantic City jumped out to a 21-9 lead at the half. Alyvia Essex paced ACHS with 15 points and six rebounds.
Alexis Harris and Lajerah Wright each scored 10 .
St. Joseph was led by Dana DiRenzo who recorded game highs of 20 points and 18 rebounds.
2:30pm ----- Middle Township 40 Trenton Central 36 box score
In a game that saw seven lead changes and five ties, Middle held on for the victory.
The Panthers received 18 points from its bench, including 10 points from Summer Sides on 5 of 10 shooting.
Trenton Central was led by Deja Ingram, who scored 15 points and grabbed 11 rebounds (both game-highs).
4:15pm ----- Shabazz 51 Ocean City 39 box score
New Jersey power Shabazz jumped out to a 32-20 halftime lead and was able to give Ocean City its first defeat of the season.
Acestra Robinson paced Shabazz with 17 points and three assists.
Shabazz guard Danielle Robinson recorded 11 points, seven rebounds, four steals and two assists.
Ocean City's Olivia Briggs led her squad with 11 points and six rebounds.

Sunday, January 25, 2015
1:00pm ------ Millville 32 Central 30 box score
Millville scored its final points of the contest with 3:58 seconds remaining in the game on a putback by Alexis Harrison.
Central missed three shots in the last 45 seconds of the game.
Harrison dominated the paint, scoring 11 points and pulling down 17 rebounds (12 offensive). Kaila Smith was Millville's leading scorer with 13..
Central was led by Katelyn Kuster, who scored 14 points, hitting four 3-pointers.
2:45pm ----- Gloucester Catholic 43 Middletown South 36 box score
Gloucester Catholic was led by Wildwood Catholic transfer, Danielle Sanderlin, who recorded a double-double (14 points and 11 rebounds).
Maggie McIntyre added 11 for the winners. Middletown South was led by Julia Valkos and Stephanie Karcz who each scored 11 points.
4:30pm ----- Timber Creek 60 Springside-Chestnut Hill PA 38 box score
A near capacity crowd came out to see Mo'ne Davis, the Little League World Series sensation from Philadelphia.
Davis is an 8th grader at Springside-Chestnut Hill Academy, which had no answer for Timber Creek standout Brittany Martin.
Martin scored 22 points and grabbed nine rebounds.
Davis scored 11 points for Springside-Chestnut Hill on three-of-six shooting from beyond the arc.
6:15pm ----- Holy Spirit 57 Wildwood Catholic 29 box score
After leading by only two points after the 1st quarter, Spirit outscored the Crusaders, 33-10, in the 2nd and 3rd quarters to take control of this contest.
Holy Spirit was led by Natalie Neiderhofer, who scored 15 points, dished out three assists and had four steals.
Wildwood Catholic was led by Caitlin McMullan, who scored nine points.

Hope you joined us for our 20th Shootout!