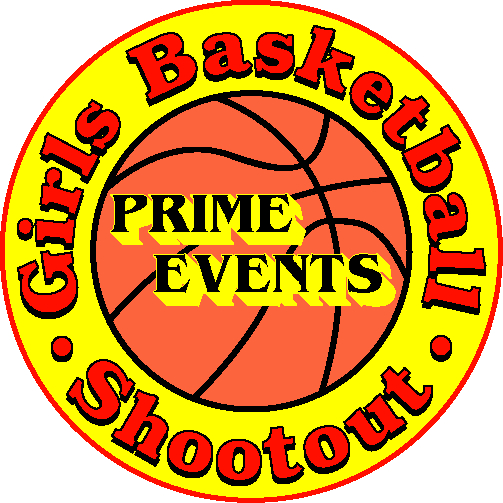 2009
PRIME EVENTS
Girls Basketball Shootout
at Holy Spirit


All teams are from New Jersey, except where indicated.




Friday, February 13, 2009
4:00pm ----- Mainland 57, Bridgeton 53 box score
Erin Brady came off the bench to score 13 points in 17 minutes, including a trio of three-pointers as Mainland rallied to win. Jimeana Loatman scored 28 points for the Bulldogs.
5:45pm ----- Bloomfield Tech 61, Absegami 46 box score
Diana Hubbard led 4 Tech players in double figures with 20 points. Charmaine Tay had 14 points, 15 rebounds and 4 steals. Dana Keister had 20 points and 10 rebounds for Gami.
7:30pm ----- Atlantic City 50, Willingboro 46 box score
Tiana Cannon had 19 points and 13 rebounds for the Vikings, making all 7 of her free throws. Stefanie Bingham had 27 points for Willingboro.

Saturday, February 14, 2009
12:00n ------ Vineland 54, Gloucester Catholic 52 box score
Charity Harris scored 22 points and made 5 assists as The Clan turned a big 3rd quarter into a victory. Alicia Cox had 12 points, 11 rebounds & 4 steals. Julie Genther had 14 points and 17 rebounds for the Rams.
1:45pm ----- Bishop Eustace 53, Trenton Central 49 box score
Victoria Sobocinski had 17 points for the Crusaders with Ashley Margraf getting 12 points, 5 steals and 5 assists. Ashley Hines scored 21 points for Trenton.
3:30pm ----- Neptune 79, Eastern 53 box score
Shakena Richardson had 13 points and a Shootout record 14 assists as Neptune remained undefeated. The old assist record was 10 by Kate Drumgoole of Paramus Catholic in 1999. Sehmonyeh Allen led the Fliers with 24 points. Genevieve Okoro led Eastern with 25 points and 12 boards.
5:15pm ----- Ocean City 55, Christ The King NY 52 box score
Shannon Lane led three in double figures with 17 points as the Raiders became the first Cape-Atlantic League team to ever beat the National powerhouse. Bria Smith had 29 points and 12 rebounds for Christ The King.
7:00pm ----- Sacred Heart 60, Lenape 54 box score
Ashley Durham poured in 33 points, hitting 11 of 22 shots, and made 6 assists. Christina Foggie scored 19 points for the Indians before being injured in the 4th quarter.

Sunday, February 15, 2009
12:00n ------ St. Joseph 43, Oakcrest 39 box score
Jade Howard had 18 points and 10 rebounds for the Wildcats. Daimis Ortiz scored 23 points and made 7 steals for the Falcons.
1:45pm ----- Egg Harbor Township 54, St. Francis NY 49 box score
Jill Shaner had 27 points and 7 rebounds for EHT. Aliya Donn had 28 points, including 4 three-pointers, and 4 steals for St. Francis.
3:30pm ----- Our Lady of Mercy 57, Wildwood 49 box score
Ashley Ridgeway led three double-figure scorers for OLMA with 14 points. Loretta Kelly scored 20 and had 4 steals for the Warriors.
5:15pm ----- Middle Township 57, Absegami 54 box score
Jessie Mooers and Tamara Gonnam each scored 15 as Middle rallied in the 4th quarter for the win. Dana Keister had 24 points and 11 rebounds for Gami.
7:00pm ----- Holy Spirit 33, Atlantic City 30 box score
Jesse Frasier had nine points, eight rebounds and five assists to lead Spirit in all three categories. Tiana Cannon had 17 points and nine boards for ACHS.

Monday, February 16, 2009
12:00n ------ Colts Neck 65, Camden Catholic 55 box score
Brooke Hampton had 18 points and 5 assists for Colts Neck, which used a 40-21 advantage in the middle two quarters. Nicole Angelo paced 4 double-figures scorers for the Irish with 14 points.
1:45pm ----- St. Peter's NY 49, Trenton Central 37 box score
Victoria Jones had 13 points for St. Peter's, which won despite 33 turnovers. Ashley Hines had 12 for Trenton, which shot only 21 percent.
3:30pm ----- University 56, Trenton Catholic 41 box score
Laurin Mincy scored 20 points and University jumped out to a 24-6 lead. Jacquel Saunders and Alvida Clemens each scored 14 for TCA.
5:15pm ----- Washington Township 54, Malcolm X. Shabazz 47 box score
Shawna Wert had 21 points, including 13 of 14 free throws, as the Minutemaids handed Shabazz its first defeat. Tiffany Green had 12 points and 9 rebounds for MXS.
7:00pm ----- St. John Vianney 81, Ocean City 68 box score
Katelyn Linney scored 25 points on 10-for-15 shooting as the Lancers held on to their No. 1 ranking in the state. Kelly Brady and Meredith Schoyer led four OCHS double-figure scorers with 17 each.




Hope you were there to see the games!