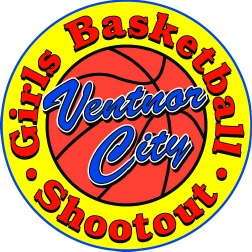 2008
Ventnor City
Girls Basketball Shootout

All teams are from New Jersey, except where indicated.


Friday, February 15, 2008
4:00pm ----- Wildwood Catholic 41, Egg Harbor Township 39
Sally O'Donnell made a pair of free throws with 0.3 seconds left for the win. O'Donnell scored 30 points to lead all scorers. Jill Shaner scored 20 for EHT.
5:45pm ----- Sacred Heart 56, Atlantic City 53
Kaity Lent made two free throws with 12.5 seconds left to open the three-point lead. Ashley Durham scored 23 for Sacred Heart. Monique Garcia had 19 and Joanna Persiano 18 for ACHS.
7:30pm ----- Absegami 40, Holy Spirit 34 box score
Tara Booker grabbed a key offensive rebound and scored to give Absegami a four-point lead in the final minute when Spirit was threatening. Booker finished with 19 points, 16 rebounds and 5 blocked shots. Jesse Frasier scored 24 for Spirit. Gami played without 6-5 senior Sara Mostafa, a 1,000-plus scorer who is out at least two weeks with a sprained anbkle.

Saturday, February 16, 2008
1:30pm ----- Northern Burlington 52, Vineland 36 box score
Katie Carty scored 19 points, grabbed 14 rebounds and blocked 6 shots for Northern. Jillian Acey added 11 points. Chrity Harris had 15 points and 4 assists for Vineland with Alicia Cox getting 9 points and 13 rebounds.
3:00pm ----- Shawnee 55, Our Lady of Mercy 29 box score
Erin Wolgamot had 17 points and 11 rebounds for Shawnee while Melissa Chu added 12 points. Ashley Ridgeway had 11 points and 8 rebounds for OLMA.
4:30pm ----- Trenton Central 59, St. Peter's NY 39 box score
Leola Spotwood led three double-figure scorers for Trenton with 17 points. She also had 9 steals. Torrie Childs had 11 rebounds and 6 blocks for the Tornadoes. Lerynicia Miller had 12 points for St. Peter's.
5:55pm ----- Camden Catholic 38, Gloucester Catholic 20 box score
Sherifat Junaid had 9 points and 10 rebounds for the Irish. Chelsea Azzari had 5 points and 10 boards for the Rams. The two teams will play again in the first round on the NJSIAA Tournament.
7:10pm ----- Willingboro 64, Woodrow Wilson 37 box score
Nadirah Brown scored 19 points and grabbed 14 rebounds as Boro pulled away with a 37-19 second half margin. Ebony Sellers paced Wilson with 15 points and 5 assists.

Sunday, February 17, 2008
12:00n ------ Bridgeton 38, Oakcrest 33 box score
The Bulldogs stormed back from a 7-point deficit starting the 4th quarter to end an 8-game losing streak. Sha'dasia Ferrell and Dejuana Dairsow each scored 11. Shadai Hill had 9 for Oakcrest.
1:45pm ----- Bishop Eustace 39, Mainland 35 box score
Eustace outscored the Mustangs, 15-2, in the third quarter. Ifeoma Obianwu scored 16 points, including 2 free throws with 4 seconds left that sealed the win. Christine Wooding had 19 points and 9 rebounds for Mainland.
3:30pm ----- Christ The King NY 61, Absegami 51 box score
The Royals jumped out to a 22-10 lead after the 1st quarter. Tara Booker led Gami with 35 points and 13 rebounds. Freshman Bria Smith had 31 points for Christ The King.
5:15pm ----- Middle Township 46, Lower Cape May 40 box score
Middle rallied for the win behind Jessie Mooers' 19 points, 9 rebounds and 4 blocks and Danielle Barber's 17 points and 4 steals. Lower, which played without 1,000-point scorer Victoria Wermuth (appendectomy), got 22 from Stephanie Dugan.
7:00pm ----- Wildwood 55, Ocean City 49 OT box score
Shakiyrah Bishop scored 6 of her 25 points in the overtime period as the Warriors upset their old CAL rivals. Latifah McNeal had 13 points, 17 rebounds and 7 steals. OC's Kelly Brady had 15 points, 12 rebounds, 5 steals and 4 assists before fouling out in overtime. Shannon Lane scored 14, including the three-pointer with 28 seconds left that sent the game into overtime. The Raiders had won 13 straight.

Monday, February 18, 2008
12:00n ------ Gloucester Catholic 43, Moorestown 35 box score
Chelsea Azzari had 16 points and 9 rebounds, making all 7 of her shots. Caitlin Sweeney added 10. The Rams shot 68 percent from the floor. Virginia Weber scored 17 for the Quakers.
1:45pm ----- Lenape 53, Bishop Kearney NY 29 box score
Sophomore Christina Foggie scored 20 points, moving within 9 points of 1,000 for her career. She also had 4 steals and 5 assists. Taylor Dunek and Kendra Johnson each scored 11 with Johnson making 8 steals. Michelle Kenel scored 10 for Kearney.
3:30pm ----- Trenton Central 75, St. Francis Prep NY 36 box score
Torrie Childs had 10 points and 10 rebounds for the Tornadoes, one of five in double figures. Ashley McQuillan scored 11 for SFP. Trenton had a 56-10 scoring advantage in the paint.
5:15pm ----- Shabazz 61, Trenton Catholic 47 box score
Shabazz used an 18-4 fourth quarter to complete its comeback over TCA. Jynae Judson had 15 points and 9 rebounds. Ebony Wilson scored 13 and Desiree Simmons 10. Lakeisha Sutton led all scorers with 33 for Trenton Catholic.
7:00pm ----- Holy Spirit 43, Bloomfield Tech 40 box score
Sophomore Hillary Drinovsky had a breakout game with 16 points and 14 rebounds. Jesse Frasier also had a double-double for Spirit with 12 points, 19 boards, 5 steals and 7 blocks. Diana Hubbard had 13 points and 10 rebounds for Bloomfield Tech.


Come join us again next February!

Directions to
The Ventnor Education Community Complex