Flagship Resort Awards
Chad Severs of Ocean City and
Danielle Frith of Hammonton
Won the 2000-01
Flagship Resort Awards
as CAL Athletes of the Year.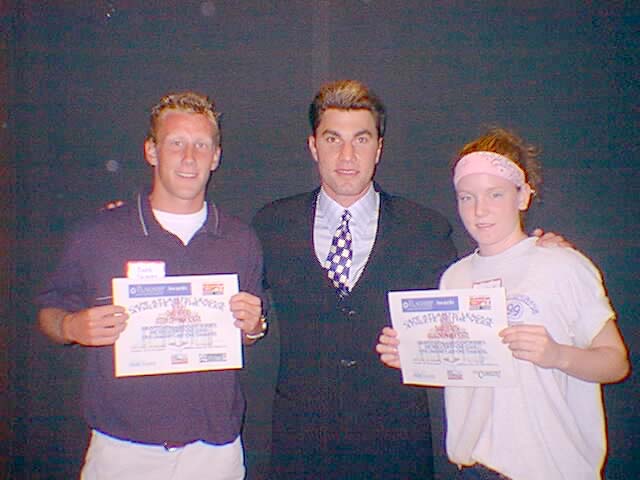 Chad and Danielle were presented with watches and certificates on June 26 by Jason Kaye, Vice-President of The Flagship Resort.



Awards were presented each month by Prime Events and the former ESPN Radio 1490 to the top male and female Cape-Atlantic League senior athletes of the previous month.

Chad is the greatest soccer scorer in South Jersey history and played on two state champions. He is currently at Penn State. Danielle scored 100 goals in soccer and 1,000 points in basketball while also starting in softball. She is attending Monmouth.




2000-01 Monthly Winners


May
Jeff Michner, Ocean City- He was CAL and South Jersey golf champion, was named South Jersey's Golfer of the Year by the Courier Post and earned All-American status.
Shameka Marshall, Oakcrest- She won both the long jump and triple jump in the NJSIAA Meet of Champions, the first CAL girl to ever win twice in that meet.

April
Neil Anderson, Egg Harbor Township- Neil was 4-0 on the mound and one of the top hitters for EHT's baseball team.
Constance DeSalvo, Sacred Heart- Constance pitched three no-hitters, including a perfect game, for the Hearts' overall CAL softball champions.

March
Jose Gonzalez, St. Augustine Prep- He scored over 1,000 career points for the Prep and is the only basketball player in CAL history to start on four straight South Jersey champions.
Aubree Fennessy, Wildwood- She was a key part of a second straight Warriors' state championship, having two of her best games in the state tournament.

February
Dave Chapman, Absegami- He has over 100 career victories for the Braves' State Group 4 Champion wrestling team.
Erin Tompkins, Wildwood Catholic- She was a key part of the Crusaders' State Championship swim teams four straight years.

January
Jon Stinson, Holy Spirit- He set a National record in the 100 backstroke and is one of the best swimmers in the state.
Jen Murie, Holy Spirit- She is co-captain and provides the inside power for the Spartans' CAL-champion girls basketball team.

December
Olu Babalola, St. Augustine Prep- A Clemson recruit, he is one of New Jersey's best basketball players.
Marita Rydell, Egg Harbor Township- She is the court leader and leading scorer for EHT, whose season was ended by a broken wrist.

November
James Holden, Bridgeton- One of the top cross country runners in South Jersey and qualified for the NJSIAA Meet of Champions.
Chrissy Jack, Ocean City- She established career and season scoring records for the Raiders' South Jersey girls soccer champions.

October
Brandon White, Atlantic City- A two-way starter for the Viking football team who led the American Conference in TD receptions.
Brandee Neiderhofer, Holy Spirit- South Jersey and Atlantic County cross country champion.

September
Chad Severs, Ocean City- The greatest soccer scorer in South Jersey history, headed for Penn State.
Meredith Howell, Hammonton- The top scorer in Blue Devil field hockey history, also successful in swimming and track.

Additional Finalists
Rich Knupp, Mainland
Mike Maher, Middle Township
Azim Smith, Millville

Danielle Frith, Hammonton
Meredith Long, Ocean City
Lindsey Tyler, Middle Township




The Flagship Resort Awards are co-sponsored by
The Flagship All Suites Resort in Atlantic City;
by NBC-40, WMGM-TV;
and by the Current, Gazette and Leader newspapers.